Acting mayor visited the works on Street hrvatske državnosti
---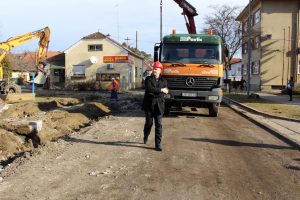 published: 23.02.2017 — Views: 2,172 puta
Started works on reconstruction of Street hrvatske državnosti in Koprivnica, from Florijanski square to Križevačka street, on 20 February 2017. The works visited acting mayor Mišel Jakšić accompanied by professional services, on 23 February 2017.
– Preparation of project documentation was done in agreement with the residents of the city, and especially the residents of this street. With the reconstruction of road surface will be carried out the reconstruction of underground utilities and street lighting as well as the construction of ducts. There will be carried out the reconstruction of parking areas and reconstruction of public lighting on the public space along the department store, in front of the Podravska bank and to the building of the Youth Center – explained Nino Štubljak, senior associate for construction, Department of Construction and Physical Planning.
It will be the first smart street in the city. Work on public lighting will be carried out with energy-efficient LED lamps, which will be steered by a joint management system, all in order to reduce power consumption and light pollution while achieving an appropriate level of brightness.
– This is one of the busiest streets that we believe will receive a form that will be the pride of the city. It will be the first street in the town of Koprivnica, which will offer Smart City solutions. In addition to smart street lighting, the street will be equipped with other solutions that make smart street and include such additional insurance pedestrian crossings and digital information kiosk. Due to significant pedestrian and bicycle traffic, special attention was paid to the safety of pedestrians and placing additional light signaling with sensor tracking encountering pedestrians on the crosswalks – explained acting mayor Mišel Jakšić.
The total cost of the reconstruction of roads and parking areas, public lighting and the construction of ducts amounts to 3,450,000.00 HRK, while the total cost of works on the construction of water and sewage networks 1,650,000.00 HRK.