In Koprivnica held a meeting of the project partners of project PROCURE
---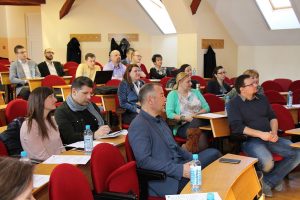 published: 21.03.2017 — Views: 46 puta
The city of Koprivnica hosted the two-day meeting of the project partners PROCURE to be implemented under URBACT II, intended for European cities that want to develop and successfully implement the strategy of sustainable urban development and adopt appropriate plans of action. The project has been established to support cities with the aim of improving the public procurement process in order to bring greater benefits to the economy of their city as well as the inclusion of social and environmental elements in the preparation and implementation of public procurement procedures and creating an action plan for procurement.
In front of Koprivnica participants were welcomed by Darko Ledinski, Head of the Department of Social Services and European Affairs.
– Koprivnica is a city on the move and the city of young people, and we can confirm that with the fact that our team that takes all of these projects in the City is not older than 34 years and that we have one of the youngest mayors in Croatia. These projects and these issues are important and that is why I am pleased that the Koprivnica is part of them – said Darko Ledinski, Head of the Department of Social Services and European Affairs.
The main carrier of the project is the city of Preston (United Kingdom), and project partners are the cities of Lublin (Poland) and Koszalin (Poland), Albacete (Spain, Candelaria (Spain), Almelo (Netherlands), Satu Mare (Romania), Bologna (Italy), Prague (Czech Republic), Nagykallo (Hungary) and Koprivnica.
The city of Koprivnica will in this project work to improve communication with local businessmen regarding the implementation of the public procurement process and thus contribute to strengthening the local economy.
Project implementation period is from September 2015 until May 2018.