Held workshop on "Supervision Meeting – strengthening assistant in the classroom"
---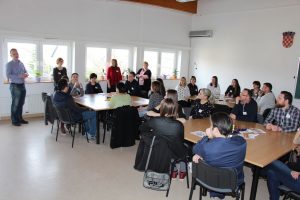 published: 20.03.2017 — Views: 115 puta
In the premises of the COOR Podravsko sunce, held the workshop "Supervision meeting – strengthening assistant in the classroom", on 20 March 2017.
The workshop is one of the activities of the "ODJEK II – Odrastanje u jednakosti, Koprivnica" and content is designed by an expert assistant of school partners in the project, and the aim is the education of assistant in the classroom.
All participants of the workshop welcomed acting mayor Mišel Jakšić.
– The results showed that this project is great importance because we realize that all our children have equal opportunities for education and advancement. We are extremely pleased that we are in this project have good cooperation with all elementary school from Koprivnica – said acting mayor Mišel Jakšić, and thanked everyone who involved in this project.
The one-year project of the City of Koprivnica "ODJEK II – Odrastanje u jednakosti, Koprivnica" is a continuation of the successful implementation of the "ODJEK – Odrastanje u jednakosti, Koprivnica". The project officially started on 1 August 2016 under the call financed under the Operational Programme Human Resources effective European Social Fund.
The project aim is to pupils with disabilities in elementary educational institutions in the city of Koprivnica, provide additional professional support through the employment of assistants in the classroom to improve educational achievement, successful socialization, and emotional functioning. The project aim is to respond to the problem of unequal opportunities faced by pupils with special needs and they need support in the form of assistants to continue contributing to the equalization of opportunities for social inclusion through achieving better educational achievement and better acceptance in the environment.
The project financed 25 assistant for 27 children with disabilities in three elementary schools from Koprivnica and one special educational institution, which enabled the creation of 25 jobs.
Project partners are the City of Koprivnica as a coordinator, elementary school "Antun Nemčić Gostovinski", elementary school "Braća Radić", elementary school "Đuro Ester" and COOR "Podravsko sunce". The total value of the project is 1,382,405.51 HRK, with grant amounts to 1,175,044.68 HRK.