Held 31st sessions of the City Council
---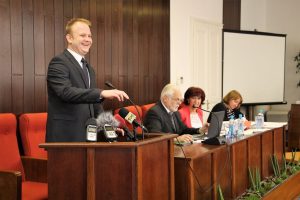 published: 15.03.2017 — Views: 46 puta
Held 31st sessions of the City Council of Koprivnica, on which discussed the 40-point of agenda. The session started with section "Questions and Suggestions", and questions are set by city councils Sandra Sinjeri, Emina Kovačević, Ernest Forjan, Ivica Suvalj, Siniša Kavgić, Željko Vugrinec and Darko Tetec, on 14 March 2017.
After point "Questions and Suggestions" councilor Hrvoje Matijević filed a Report of Mandate Commission to stationary the mandate of Miljenko Flajs and the beginning of the acting deputy councilor of the City Council Maja Raščanec who was sworn in.
The councilors get an overview of the security situation in the city of Koprivnica in 2016, and adopted the work report for 2016 of Library Fran Galović, the Open University Koprivnica, Museum of city of Koprivnica and the Fire Department of the City of Koprivnica, report the work of the Youth Council of the City of Koprivnica, report on the work of municipal worker of City of Koprivnica and report on the work of the acting mayor for the period from 1 July 2016 to 31 December 2016 which was accepted by a majority vote.
From major points were adopted amendments to the budget of the City of Koprivnica for 2017 and projections for 2018 and 2019, Decision on city taxes, Communication strategy management and implementation of the Development Strategy of the City of Koprivnica 2015 – 2020, Decision on approval for implementation of the investment project in the cemetery in the suburb of Rijeka, as well as the Decision on the approval for the implementation of investments in the construction project of the Children's playground in the suburb of Starigrad, decision to sell the property in Koprivnica Ante Starcević 20, Decision on the financing of decentralized functions of primary and secondary education and determining the criteria for co-financing activities of institutions of preschool education, Decision on amendments to the Ordinance on scholarships for students from the city of Koprivnica, the decision on entrusting the investment in the construction and equipping of the shelter for lost and abandoned animals in Koprivnica, Decision on aid to agriculture in the period from 2017 to 2020.