Great success for Ivan, Nataša, Vladimir and coach Alen at the Winter Olympics in Austria  
---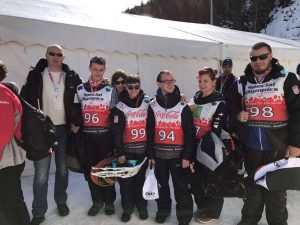 published: 17.03.2017 — Views: 59 puta
Great news from Austria!!!
Members of the Sports Association for helping people with intellectual disabilities "Veliko srce" Nataša Zamljačanec Plahinek, Ivan Dujaković and Vladimir Strmečki staying at the Winter Olympics which lasts from 14 to 25 March 2017, in Austria.
Today was held the qualifying race in the 100m running on snowshoes. A total of 149 competitors, our athletes from Koprivnica has achieved excellent results. Nataša and Ivan won second place and Vladimir fourth place and qualified for the finals in the 100m.
– We must emphasize that our athletes have done the race without any technical faults and fall, which unfortunately has a lot in these races. Tomorrow we are waiting for the qualifying race in the 200m – said coach Alen Marošević.