Club HELLO celebrates 25th anniversary
---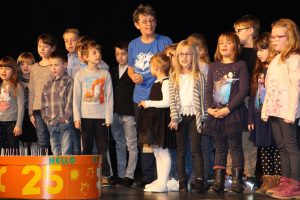 published: 23.02.2017 — Views: 1,819 puta
Club HELLO with a large gathering of students, current and former, their parents and friends celebrated 25 years of existence. The ceremony began with a song I have a dream that trainees Club sang along with Helena Hečimović, founder of the Club.
– 25 years ago and I had a dream, it was a dream to have exactly this club what we have today, Club where foreign language learning through play, song, and entertainment –briefly said Helena Hečimović.
The celebration was held in the hall of the Youth Center, where the participants through song, dance and the game showed great knowledge of English. The celebration joined acting mayor Mišel Jakšić.