Koprivnica started the competition selection of the most beautiful school garden
---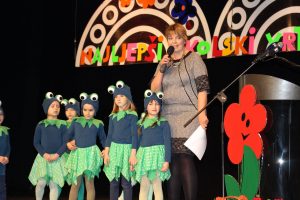 published: 17.03.2017 — Views: 40 puta
In the hall of the Youth Center held a motivational expert meeting on the occasion of the opening of the competition for the most beautiful school garden in Croatia in 2017, on 17 March 2017. The event is organized by the Croatian Radiotelevision and the Library Fran Galović Koprivnica, sponsored by the City of Koprivnica and Koprivnica-Križevci County. In front of the City of Koprivnica expert meeting attended Melita Samoborec, Deputy Mayor, and Darko Ledinski, Head of the Department of Social Services and European Affairs.
– It is my honor and a great pleasure to welcome you all in our beautiful Koprivnica. At the beginning, I want to especially commend the initiators of the project because that is carried out for 23 years which shows how important and strong action is. The city of Koprivnica is honored to be a sponsor of this action that is educational and environmental and through which effects on young people to care about the environment, to protect the environment for future generations – said Melita Samoborec, Deputy Mayor and invited all schools and kindergartens to join the project.
Professional meeting participated and Sanja Putica, Deputy Minister of Science and Education.
– I am glad that the ministry from the very beginning has recognized the importance of this particular project. I always want to emphasize that the school is not only a place of strict implementation of plans and programs but the school must be a place of breeding, and the project selection the most beautiful school gardens that contribute – concluded Sanja Putica, Deputy Minister of Science and Education.
The comprehensive range of professional meeting enriched children from kindergarten Tratinčica with performance of "Žablji sastanak", pupils of elementary school Braća Radić performing traditional dances and songs of Koprivnica-Križevci region, followed by pupils from elementary school Đuro Ester performing "Nove basne o cvrčku i mravu " and a recitation of Ema Pinter "Protuletje".
With this gathering was officially opened competition for the most beautiful school gardens in the Republic of Croatia, for 2017.