Awards presented to the most active sliders
---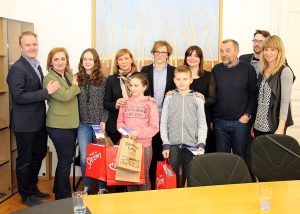 published: 24.02.2017 — Views: 2,044 puta
Marking the end of the skating season on the Koprivnica rink at the City Hall are divided rewards to the most active sliders. Their skates are the most honed Antea Sabolić, Dorijan, and Lukrecija Jakupec and with the same number of points deserved awards.
Acting mayor Mišel Jakšić thanked everyone for coming and partners Belupo who are the biggest and long-time partners in this project.
– Thanks to skaters for the great effort and willingness. They are one of the best examples and evidence of how our rink makes sense, as it is necessary and how it came to life in our city, but the most important are to taken hold among our children. In Koprivnica we are working on to be the city of young people, not only through the prism of being a city of knowledge, innovation, and start-limit but to be a town of sports and healthy lifestyle – said acting mayor Mišel Jakšić.
Satisfaction with the project expressed Snježana Foschio-Bartol, Director of Public Relations of Belupo.
– Living together in this city, and sharing the same values and of course wanting to make life better and better citizens we are together on this project for 10 years. We raised a generation after generation of young skaters. Our aim is that as many young people we have in this project that will recognize these values, and our young Antea, Dorijan and Lukrecija exactly these young people. They spent their free time devoted to a healthy lifestyle – said Snježana Foschio-Bartol, Director of Public Relations of Belupo.
One winner, Lukrecija Jakupec from Peteranec said she goes on the rink for seven years and as along the basketball which she coached, she adores to skate.
– It's nice to skate, it used to be times when we were alone on the rink so we play chase game – there were falls and laughter – happily told Lukrecija Jakupec from Peteranec.
At the award ceremony was attended Melita Samoborec, deputy mayor, Darko Ledinski, head of the Department of Social Affairs and European Affairs, and Petra Bijač, professional officer for marketing and public relations of Komunalac and partners from Belupo along the director Snježana Foschio-Bartol with associates Lidija Turkalj , Andreja Pavičić and Staša Bakliža. Most active skaters won valuable prizes.