Free performances on the occasion of the World Day of Theater
---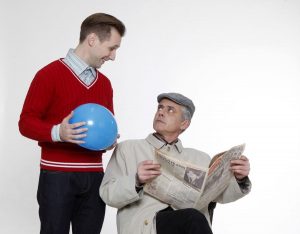 published: 21.03.2017 — Views: 45 puta
On the occasion of the World Day of Theater which is celebrated on 27 March 2017, the City of Koprivnica donated performance of Gavran Theater "Pivo". This is a comedy that speaks about a father and son, their relationship during sixty years. Author Miro Gavran with much humor and warmth demonstrated contemporary recognizable characters who guide us through situations that many of us lived with parents or children.
Charming is toying with macho myths and intergenerational relations, Zlatko Ožbolt and Jakov Gavran built in this subtle present convincing life figures, led directorial hand the great Croatian actress Helena Buljan.
The show will be held on Saturday 25 March 2017, starting at 19.30 in the hall of the "Domoljub", Starogradska 1, Koprivnica.
Free tickets can be picked up from Wednesday, 22 March 2017 at the checkout of "Domoljub".
Mark World Theater Day together!